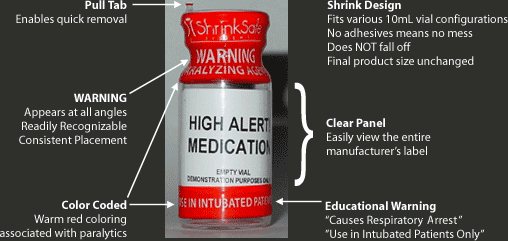 Alerts Users through Visual Cues and Tactile Awareness
Once the band is applied, the medication has a distinct look and feel different from traditional injectable medications. These differences also serve to differentiate the product.

Adds a Forcing Function to Routine Administration
At administration, the presence of this band forces the user to remove an additional cover which entirely encloses the container. This ?ty step?rts the user and differentiates the product.

A Standardized Solution for ALL Practice Settings
Paralytics have long been reported as a top risk in hospitals and surgical centers. Confusion associated with their use has called for additional auxiliary labeling in the OR, additional auxiliary labeling, bagging and bag-labeling outside the OR, and, in certain circumstances, quarantining of product in security boxes. Our product essentially puts each vial in its own security container, allowing for a standardized approach to improving the safety of paralytics throughout your organization.